| | |
| --- | --- |
| Posted on October 31, 2019 at 5:05 PM | |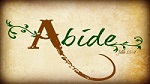 Contained in the inner being of an individual is a desire and hope for a life full of stability, assurance, and endurance with the ability to deal with the issues of life in a comprehensive and orderly fashion. Every individual's life is created, designed, and equipped to be anchored in a life-giving source, divine purpose, and destiny. The only way for one to experience the stability of being anchored in life is to know Jesus Christ as Savior and Lord which gives grace and enables one to believe, trust, and have faith to abide in Him. Jesus declares in Scripture "I am the vine, you are the branches. He who abides in Me, and I in him, bears much fruit; for without Me you can do nothing" (John 15: 5 NKJV). For a believer abiding means more than living right, holding the proper beliefs or presenting oneself in a certain way, it is about relationship, agreement, obedience, and commitment with God through His Son Jesus Christ and by the power of Holy Spirit.
Each believer must understand that in order to abide in Christ one must be steadfast, fixed, and unwavering in their commitment to continue, endure, remain, stand, dwell, and reside in Christ no matter what the issues, circumstances or conditions one might face. Abiding in Christ requires a believer to be dependent, reliant, and subservient to God through Jesus Christ and Holy Spirit. The scriptural concept and principle of abiding in Christ solidifies each believer's standing in God's kingdom. "Abide in Me, and I in you. As the branch cannot bear fruit of itself, unless it abides in the vine, neither can you, unless you abide in Me" (John 15:4 NKJV).
Abiding in God's kingdom brings new life, establishes one as a new creation, ensures communion and fellowship with God, enhances the justification of faith, enables one to partake of God's promises, encourages the renewing of one's mind, causes one to become prudent and wise, provides grace to strengthen one's resolve to overcome, and secures a permanent relationship with God the Father.
Some characteristics and qualities of a believer who abides in Christ are: one's love and devotion to Jesus transcends what God has done or given (1 John 4:16); one is obedient to Jesus' instructions (John 15:10); one is a doer of the word (James 1:22); one aligns their heart and comes into agreement with God's will (Matthew 6:10); one consistently matures and grows spiritually (Philippians 3:14, 2 Peter 3:18); one is not conformed to this world but is transformed into a heavenly mindset (Romans 12:2); one's service unto the Lord is fueled by love, intimacy, and devotion for the Lord Jesus Christ.
Just as the Father has loved Me, I have also loved you; abide in My love. If you keep My commandments, you will abide in My love; just as I have kept My Father's commandments and abide in His love. John 15:9-10 NAS
Categories: None
/